Course Maps
Start/Finish
The start/finish line is located at the Camp Lapihio Headquarters.
Laps and Spurs
The course is a 12.5 mile lap in Umstead Park that you repeat eight times to reach 100 miles.
You go counter-clockwise around the course.
All junctions are marked with signs to help guide you.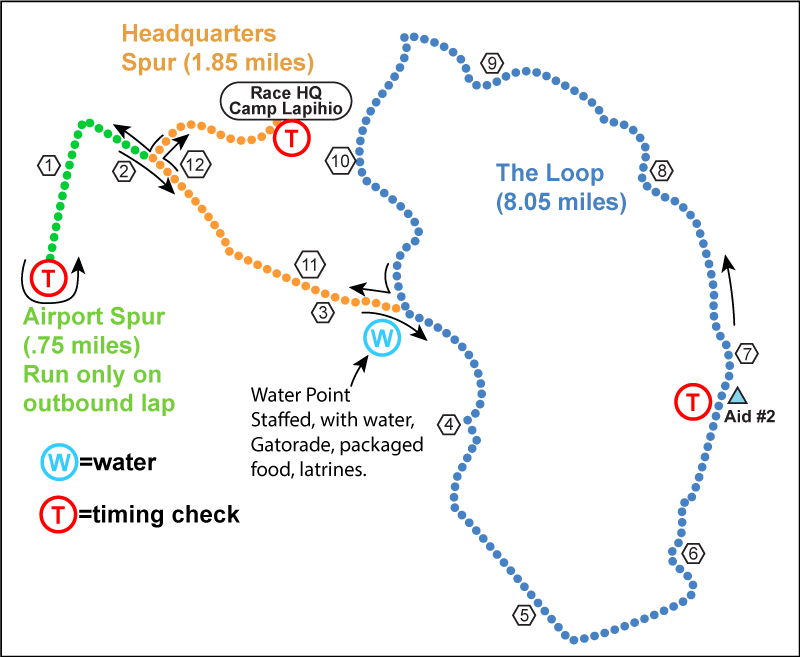 The Headquarters Spur (orange) is 1.85 miles long. This spur allows you to see fellow runners up to 5.3 miles behind and in front of you.
The Airport Spur is .75-mile long, and branches off the Headquarters Spur at the 0.6 mile point of each lap. The Airport Spur is run only on the outbound leg of a lap.
The course has been rolled with a calibrated wheel and is USATF certified.
Topography
The course is rolling hills with a total of 8,000 feet of climb over the 100 miles (1,000 feet per lap). The entire course is runnable for front-runners with nicely spaced hills. Getting lost, even for a short time, will be difficult (but not impossible). The course is well marked with Umstead 100 Logo direction signs. At night the course is marked with glow sticks.
Although mostly rolling hills, a lot of people are surprised at the hills on the back side of the course (between miles 7 and 11).
Surface
The course is along a running, biking, and horse trail. The trail width varies between 8 and 15 feet and the footing is excellent. There is no single track trail on the course. All creek crossings are on permanent bridges.
The course is an outstanding running surface. However, on the vehicle access road portion of the course leading into Camp Lapihio/Race Headquarters (.4 mile), there is larger crushed gravel that is typical for automotive traffic.
The picture below is a typical part of the gravel trail. While you might be running fast enough to need that SLOW sign, it's really for the mountain bikers who might be coming AT you down the hill at warp speed. Stay alert!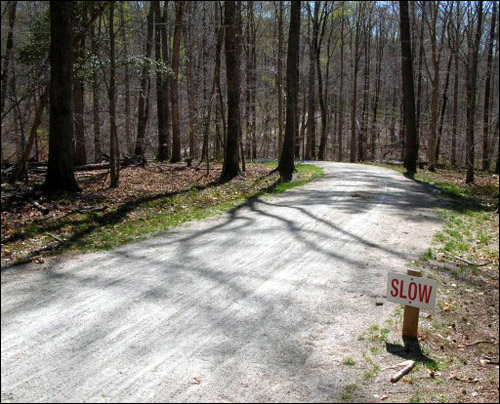 In the picture below you can see that some of the trail has less gravel than other parts. A heavy rain can turn these parts a bit muddy, so be prepared.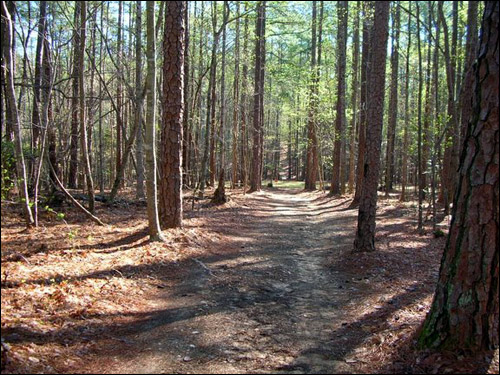 Here are more pictures of the course, courtesy of Ben Dillon.
Footwear
We continue to recommend a light trail type shoe, but a well cushioned, regular running shoe will do fine on this surface. We also recommend gaiters to keep the grit out of your shoes. (Which might help prevent blisters.)
Traffic on the Course
On the majority of the course there is no motor vehicular traffic except the rare official park vehicle. There is .4 mile of the course with very light park traffic that consists primarily of race/crew vehicles. There will probably be some bicycle traffic and a few horses on the trail during the day.